With more than 12 theme parks to choose from, Orlando is already one of the best tourist spots for families, however, there are many more things to do in Orlando like shopping, fine dining, exploring nature, and more.
One of the best ways to explore everything that Orlando has to offer is by going on an airboat tour. An airboat tour is a great way to explore around the marshes like the Everglades National Park.
BEST AIRBOAT RIDES IN ORLANDO
To make your choice easier, I have selected some of the best airboat rides near Orlando which you can read below.
WILD ABOUT FLORIDA FULL-DAY TOUR FROM ORLANDO
A perfect day trip for those who want to get away from the busy city life and get close to nature. This six-hour round-trip airboat tour will take you to Everglades, where you can view alligators, explore rare plants, eagles, and more.
You will also be served with BBQ lunch before heading towards Florida Wildlife Park where you will see lemurs, sloths, and more animals. If you are brave enough you can also feed the alligators while taking a picture or two before getting back to the meeting point and end your great day trip.
Duration: 6 hours
Starting Time: 7:30 am
ORLANDO: 90-MINUTE AIRBOAT EVERGLADES ADVENTURE TOUR
This 90-minute airboat tour will let you discover Shingle Creek where you will explore the headwaters of Florida Everglades. You will visit the place where the largest living estuary in the world is located and also discover endangered bald eagles and alligators.
Experience uninterrupted views of the diverse wildlife and glide through the marsh areas and the thick vegetation while you capture nature at its best through your camera.
See how Florida was like before the urban development and construction of theme parks. Riders will be provided with protective gear for a comfortable ride.
Duration: 1.5 hours
Starting Time: 11 am, 1 pm, 3 pm
ORLANDO: MANATEES SWIM, SNORKEL AND BOAT DAY TOUR
Don't miss this lifetime experience where you will not only explore the nature at Florida Everglades, you will also get a chance to swim and interact with the manatees.
The trip starts in the morning with a cruise to the Crystal River where you can swim and snorkel with the manatees. If you are lucky, you can even interact with the manatees as they are curious creatures who love to interact with humans.
The trip also includes a complimentary lunch after which you will learn more about the wildlife from the tour guide. Before ending the day, you will be visiting Homosassa State Wildlife Park which is one of the hidden gems of Florida.
Duration: 9 hours
Starting Time: 7:30 am
ORLANDO: KENNEDY SPACE CENTER AND AIRBOAT TOUR
Combine the best of two of the most popular tourist attractions – Kennedy Space Center and Everglades in this 12-hour fun-filled trip.
Kennedy Space Center is NASA's launch site where you can see shuttle launch pads, Atlantis space shuttle, interactive exhibits, IMAX cinema, and more.
Once you have learned everything about the US space history, you will then take an airboat tour to observe alligators, eagles, and more wild creatures. This Orlando alligator tour will also allow you to feed them.
Duration: 12 hours
Starting Time: 7:30 am
EVERGLADES AND MIAMI ADVENTURE TOUR FROM ORLANDO
One of the perfect ways to explore Orlando and its surroundings is by taking part in this 16-hour tour which will take you to many tourist attractions and will leave you wanting for more.
You can either join the trip from the meeting point or from your Orlando place of accommodation in the morning where you will also be provided with a complimentary breakfast. Following it will be a 30-minute swamp boat tour of Orlando Everglades where you will explore its flora and fauna.
After that, you will head over to the Magic City Miami where you can enjoy a variety of fun-filled activities, followed by a visit to Bayside Marketplace Mall where you can shop, and then a boat ride to Island Queen with some time at the gorgeous South beach.
Duration: 16 hours
Starting Time: 7:00 am
KENNEDY SPACE CENTER AND AIRBOAT SAFARI TOUR
This is one of the family favorite airboat tours near Orlando which includes a visit to Kennedy Space Center and St John's River.
You can either meet at the pickup point or you also have the option of getting picked from selected hotels from where you will head to Kennedy Space Center. Here you will learn a lot about space and the history of US space travel while having a lot of fun at the same time.
Get a chance to stand inside the launch control room and observe the Saturn 5 which is the biggest rocket ever to take flight.
Once you have experienced the out-of-the-space trip, you will then enjoy an airboat trip on St. John's River where you will observe the famous American alligators and many other creatures.
Duration: 10 hours
Starting Time: 8:30 am
ORLANDO: 2-HOUR AIRBOAT EVERGLADES TOUR
Experience the wild side of Florida in this two-hour airboat ride from Orlando which takes you to the world's largest living estuary, Shingle Creek.
The 6-seater state-of-the-art airboat ensures that every passenger gets the best view, so be ready with your camera to take some great pictures of nature and also native alligators.
Other than the wild side, you will also learn about the human side from your guide about the early natives who lived through the marshlands.
TO make your trip comfortable and safe you will be provided with all the necessary protective gear like rain protection, ear protection, bimini tops, and other accessories.
Duration: 2 hours
Starting Time: 11 am, 1 pm, 3 pm
ORLANDO EVERGLADES HALF-DAY TOUR WITH VIP OPTION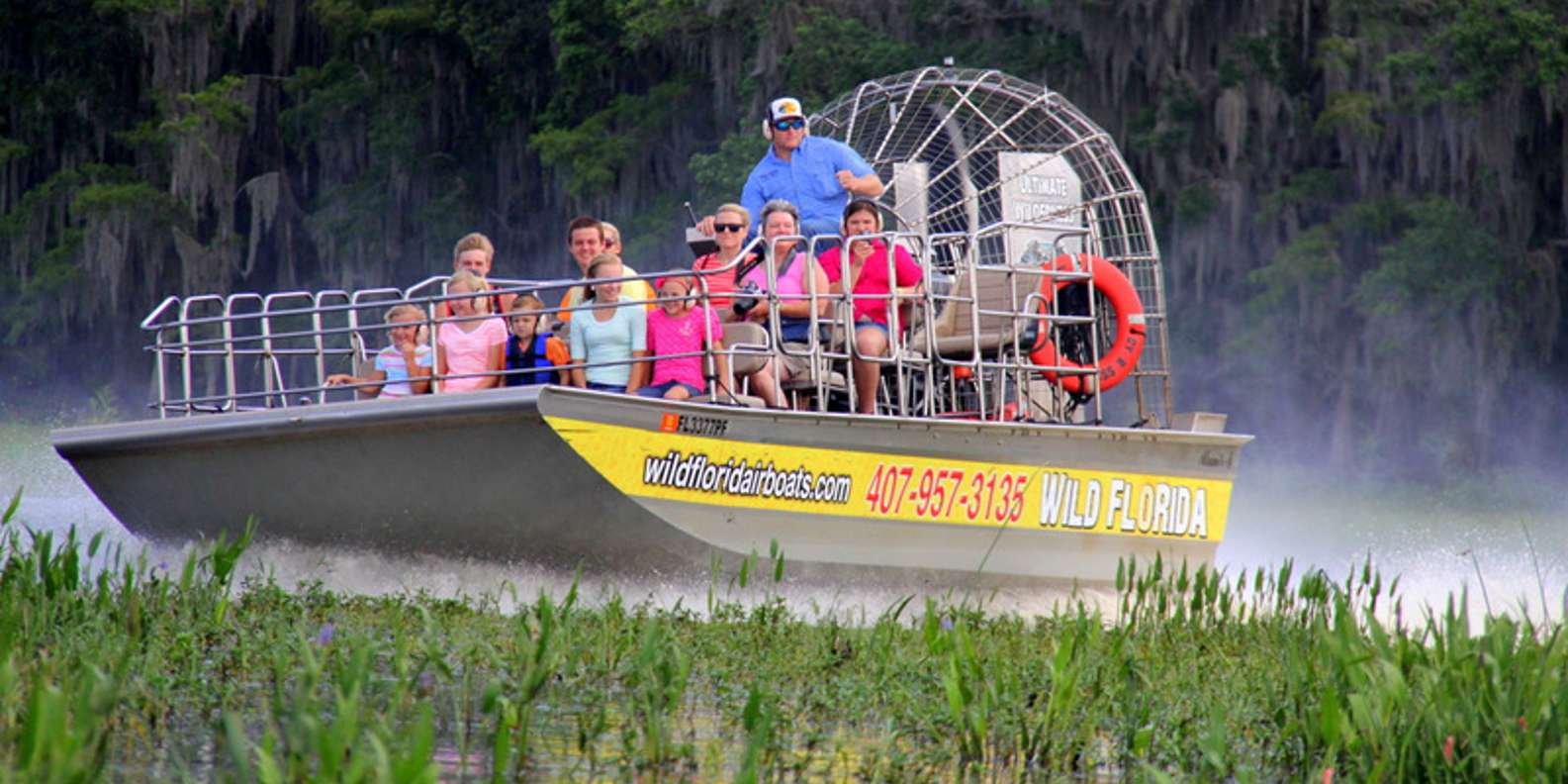 This is a four-hour tour that will take you on an airboat ride to Everglades, entry to Gator Park, a delicious lunch, and even a chance to click a photo with the alligators if you are brave enough.
The tour starts with a one-hour ride to Everglades after which you will be visiting the Gator Park where you will get up close and personal with the native alligators. If you want to show how brave you are, you can even click pictures with them.
Duration: 4 hours
Starting Time: Between 9 am to 4:30 pm
MIAMI: SOUTH BEACH AND EVERGLADES TOUR FROM ORLANDO
Experience the best of Everglades and Miami the world-famous tourist city in this 15-hour trip. You get the option of pick up from selected hotels on this trip which is a great combination of fun-filled activities.
You will start the day with an airboat trip to Everglades where trained experts will show how to handle alligators. After exploring Everglades, you will then head over to Miami which includes optional activities like Star Island Cruise where you can spot famous mansions, visit the Bayside shopping district and the Art Deco District at South Beach.
Duration: 15 hours
Starting Time: 6 am
ORLANDO: WILD FLORIDA EVERGLADES AIRBOAT & WILDLIFE PARK
Explore 4200 acres of swamps, marshes, and rivers on this fun filled Everglades tour along with an entry to the Wild Florida Wildlife Park.
Start your trip with an airboat tour where you will explore the Florida Everglades while spotting Native American alligators at the same time. After your airboat ride, you will then visit Wildlife Park where you will many animals like inquisitive emus, long-horned watusis, zebras, and also many tropical birds.
This tour is operated by the only airboat company in Central Florida which also owns the property. The facility is approved by US Coast Guard so the company is always prepared to offer an unforgettable experience for the whole family.
Duration: 1.5-2 hours
Starting Time: Between 9 am to 4:30 pm
What do you think about my list of the best airboat tours in Orlando? If there are any other Orlando airboat rides that you think should have been on this list or any comments in general, kindly post them in the comment section below.
Also, show your love and support by sharing this list with your friends and family.